a National Treasure in the beautiful south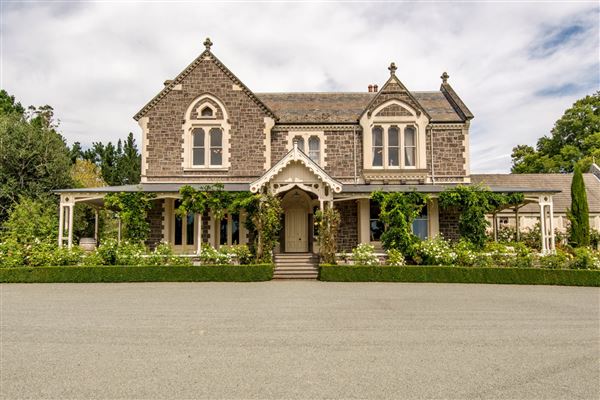 Nothing can prepare you for this property. A magnificent residence built with the finest granite between the years of 1884 and 1887. Yes it took artisans close to three years to construct. Stone masons and carpenters were sourced from England to come and build this exceptional home. Much of the interior woodwork was imported too. At one time the residence of Lord Ranfurly as Governor of NZ this property is like no other, built on rock it has stood as a sentinel overlooking the district for 135 plus years, 5 generations and will stand for many, many more.
Downstairs the formal entry leads one into a time a charming atmosphere of yesteryear. The ground floor boasts a magnificent parlour with double French doors and overlooks lawn and gardens, the library, a massive dining room, master's study and a central reception area. There are two adjoining kitchens. A stunning staircase leads upstairs to a total of ten bedrooms...three of which are larger than many Auckland apartments and have their own en-suites. From some bedrooms there are distant sea views. There is a nanny suite too, comprising two adjoining double bedrooms, plus more double bedrooms and two servant single rooms. There are three additional bathrooms. So you have noticed the Chapel? It has it's own chapel, plus a conference hall and not one but two separate two bedroom units...there is more, much more . Situated on around 25 acres much of it comprises lawns, garden and forest areas there are also two very large grass fields for horses and the like. Situated on two titles with two road frontages and an easy eight minute drive into town this is your opportunity to acquire a freehold National Treasure in the beautiful south.
It has been the Vendor's own residence for the last 15 years with much of it undertaking painstaking restoration. Here is the link to the story of this property. https://www.stuff.co.nz/life-style/homed/houses/114602310/historic-castle-claremont-in-mt-horrible-road-needs-a-new-owner
Web id: AAJL
MLS#: 777490
Bedrooms: 14
Bathrooms: 5